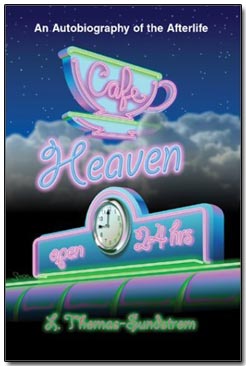 Cafe Heaven
A tale of one guy's rocky road toward the Afterlife.

Summary
Route 66, once America's most famous road west, has become America's most haunted highway. Littered with ghostly travelers, towns, automobiles, and phantom auto wrecks, it is said to be a stretch of road that refuses to die.

Henry Smith, vacuum cleaner salesman and "regular guy" doesn't know about the rumors as he leaves the highway in search of a shortcut to his next appointment. He hasn't been warned about phantom lights, nor that the diner he is about to stumble into might just be something else.

Henry Smith is about to look Murphy's Law right in the eye as he heads his Chevrolet toward a big blue neon in the dark. He is about to straddle the ride to end all rides, and confront questions that have plagued mankind for centuries. Henry Smith is about to become the most confused enlightened soul in the history of the world.

And we're invited to come along with a front-row seat.
Book Details





Café Heaven





ISBN:


0595259154



Publisher:


Writer's Showcase Press



Genre:


Fantasy / Mystery

---
Read an excerpt
---
Buy Now
Click to buy from
Barnes & Noble


"The novel bears the subtitle, "An Autobiography of the Afterlife" which will give more than a hint of its major theme. . . The author, on the back cover, disavows any first-hand knowledge of the afterlife, but it's a fairly compelling ride to explore her posthumous terrain with poor Henry, disbelieving, bewildered and (literally) bedeviled. . . Thomas-Sundstrom deals pretty impressively with a fairly allusive stream of probing conversation, both inside and outside the cafe, full of implication that is crucial for the reader to grasp along with Henry Smith. Thomas-Sundstrom is certainly a companion worth having on the route to Heaven."
Reviewed by Lee Speth
---
"Glorious cover! And what was inside this little book was a big surprise! I read it cover to cover without sleep! Fast pacing. Satisfying storyline. Thought-provoking while maintaining a comfortable lightness of being. "
Reviewed by Suzanne Smith
---
"This is a novel that grabs the reader at once and won't let go until the very last page is turned. Fascinating philosophical questions are asked and, ultimately, answered. . . a jukebox takes on a personality all its own . . . and tantalizing aromas come from the kitchen. An unending supply of apple pie ala mode? Now, that's heaven!"
Reviewed by Suzanne Scarborough